Aimed at beginners, families and those wanting to get back into cycling, we have a club ride starting EVERY SUNDAY from Afan Argoed Country Park. The ride is totally off road using the excellent cycle routes along the valley. Please click on the image below to see the official poster.
LATEST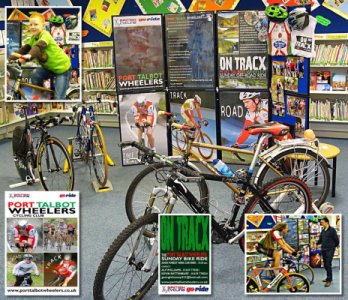 The club's new display had its first showing at the Port Talbot library on Thursday morning and was a great success in introducing us to the public. It was interesting how many people are aware of the club but have been looking for another point of access. It's clear that we are very recognisable around town as we speed by on Saturdays and Sundays from the Plaza but the event at the library provided a daytime opportunity to meet club members, see photographs of the club's different activities and see a selection of our bikes.
John, Karen and Thomas Hanson, Eileen and Anthony were there to represent the club and each performed a tremendous job promoting the Wheelers. The display of bikes was a real eye catcher, particularly John's Koga Miyata track machine and Geraint's Dream lo-pro. The disc wheels and tri-bars were instantly recognisable as being 'just like in the Olympics'.
Eileen's classic Kona mountain bike was set up on a turbo and on seeing Thomas giving his all, around fifteen children enthusiastically had a go. In fact, it was tremendously encouraging that many were reluctant to let their friends on! It was good to note that there were more girls than boys showing an interest and although some were a little unsure at first about trying the turbo bike, they all overcame their nervousness and enjoyed what was something completely new to them. Everyone was eager to try as hard as they could but soon learned the benefits of pedalling quickly and thanks to John's and Eileen's tips, they all went away with much to think about. Some displayed that 'naturalness' on a bike where you just know they'd have a future in the sport.
Some children had come along with their parents to see what the club can offer and this is where the Sunday OnTracx ride can fulfil that aim. It's a very effective means for beginners to make a start and for those with a little more, or even greater ability, to come and meet us. It gives us the opportunity to learn as well which was very apparent when two children who visited with their mother and grandfather turned out to be experienced trail riders already; both being under ten years of age and riding with grandpa at Glyncorrwg. The time will soon arrive when a more challenging ride may need to be part of the OnTracx Sunday with the emphasis still directed towards the young riders who join us. Those senior members who regularly attend the Sunday ride will have witnessed with great satisfaction how Sian, Bethan, Thomas and Jordan have progressed and, in time, they might want a new challenge so that they keep progressing and maintain their enthusiasm (like all of us really). So I guess we need to offer the rides and continued support to ensure these youngsters come to us and stay with us (or in the case of those two boys, if we can stay with them!). BMX anyone? I have to confess, I used to regularly train on Dorchester's BMX track – tremendous fun and very hard!
So we now have a durable display, which is quick and easy to put into place, and hopefully will be used regularly at school holidays and local events. I think Anthony's already thinking ahead to suitable opportunities for us to promote the club. Hilary, the chief librarian at Port Talbot is very happy for us to return in the future as it worked so well.
I'm pleased to say that I broke my own turbo endurance record which now stands at three hours - so that's my week's training taken care of. Actually, the heating was up so high that I'd say it was the equivalent of five hours judging by the way I felt afterwards!
I'd like to thank all those who contributed to the day: Martin Edwards for his continued support and enthusiasm: Charles Reynolds for positive input and Lara Griffiths for producing the excellent prints for the display: the Hanson family, especially Thomas, for representing the club so well: Bethan and Sian Rattenbury for the loan of their OnTracx T-shirts: John Williams for an excellent selection of photographs and his consideration in getting them to me quickly in a hi-tech format – well done John! : Gary Gregory for the framed club photograph: Peter Knowles for attending and offering input: Eileen for helping assemble the display and indefatigable efforts on the day: Anthony Vallario for attending at short notice and promoting the club in such a welcoming manner: Geraint for the loan of the lo pro and club jerseys: Bill Gannon for website support and lastly and most importantly, the staff at Port Talbot library for the use of their space and display system and providing publicity and encouragement.